Description
ANS Performance RAVE, 60 Servings
Extreme Energy Nootropic

Drastically amplify executive function & memory.
Improve mind-body neural connections and achieve higher level processing
Perfect for the athlete, student or workaholic to boost in mental productivity!

The Definitive Solution for Mental Focus Enhancement.

Reach beyond your limits by enhancing executive function & memory.
Laser focus & overwhelming mind-body neural connection enhancement.
Experience sustained high energy with no crash
Featuring the amazing potent neurogenic MagicLION & only the highest quality ingredients
Gluten free and zero dyes or artificial colors.

Boost your mental productivity!

Feeling like your daily routine needs a boost or simply can't keep up with the pace?

Get more done! Elevate your physical and mental energy. Dominate cognitive tasks, and achieve unmatched levels of focus & mental endurance!

Why do you want this?
Because you'll be able to conquer any mental and physical goal with limitless potential!
Nutritional profile may vary with flavour.
Natural Product Number (NPN) Information
In Canada, all natural products must be issued a product license by Health Canada. This product number is known as a Natural Product Number or NPN. Products with this license have been assessed by Health Canada and have been found to be safe, effective and of high quality under their recommended conditions of use.

The NPN for this product is: 80074008
Disclaimer
The products and the claims made about specific products on or through this site have not been evaluated by SupplementSource.ca or the Canadian Food Inspection Agency (CFIA) and the Department of Health Canada (Health Canada) and are not approved to diagnose, treat, cure or prevent disease. The information provided on this site or any information contained on or in any product label or packaging is for informational purposes only and is not intended as a substitute for advice from your physician or other health care professional. You should consult with a healthcare professional before starting any diet, exercise or supplementation program, before taking any medication, or if you have or suspect you might have a health problem. SupplementSource.ca is not responsible for any statements or claims that various manufacturers make about their products or the general information provided for each product on this website. We cannot be held responsible for typographical errors, product formulation or label changes. Please consult with your own physician or health care practitioner regarding the suggestions and recommendations made on SupplementSource.ca and especially before using any product sold on this website.
Payment & Security
Your payment information is processed securely. We do not store credit card details nor have access to your credit card information.
Customer Reviews
Write a Review
Ask a Question
Filter Reviews:
half
wife
Blue Raspberry
focus
Works
Creatine
trick
jitters
boost
burn
Excellent Product
This is a pretty unique supplement. Well-dosed but no creatine or pump enhancers which I actually prefer. Potent stimulant effect without the jitters. I love the flavour, it's more on the subtle side (I've always stuck with the blue raspberry). I've only ever needed one scoop, sometimes half does the trick. Works well as a preworkout or even just to sip on throughout the day while working to maintain focus. My wife loves it too, she uses it mainly for work. Definitely worth a try!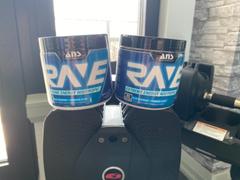 06/02/2021
Will P.

Canada
Rave Preworkout Pineapple Mango
After I received a sample or RAVE, I had to order a tub, the pineapple Mango tastes great. Product does as it says, I get a high energy boost and really focus in on the workout, getting a great burn.